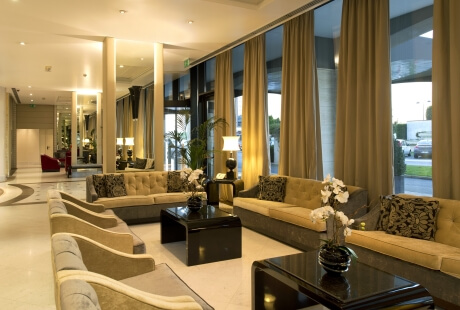 Located in an unique setting, close to the hinterland of Milan, sheltered from traffic noise, the Grand Hotel "Duca di Mantova" is a new structure of Caltahotel group.
The elegant hall furnished with modern materials, decorated with mirrors, precious marble and embellished with items of fine antiques, will give you a warm welcome and will be an incomparable visual experience.
Located in the middle of the "Vulcano" terrace, a magical place and gastronomic oasis, the Grand Hotel "Duca di Mantova" is an unexpected surprise in an industrial city like Milan.
Stay at the Grand Hotel "Duca di Mantova" means forget to be on business and spend their free time making new culinary experiences, tasting the best Italian cuisine or enjoy shopping until late with only a short trip in the elevator.
Below the hotel there is one of the largest mall in Italy, the mall Centro Commerciale Vulcano: 160 stores that let you choose between the best proposals made in Italy and a wide and different range of products.
The hotel combines the experience of living in a new and elegant hotel with the only opportunity to leave behind the work life to enjoy the relaxation and the absolute fun.